First off: HOLY CRAP! I did not expect so many people to like my insane SIMS ramblings! I haven't responded to the comments yet but I read them all and am so tickled you all like them. I will try to keep it amusing for you, and thank you~ :3
Alright, now that I'm done being mushy, let's get back into business. Remember how I said I was thinking about "spicing" things up in the Domoto household...?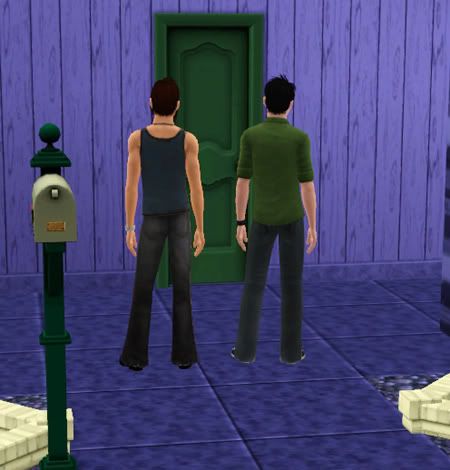 DUN DUN DUNNNNNNN---!!!
Meet Tackey and Tsubasa! Or, well, their backs, anyway. I found that you can easily merge households and immediately set about to making the two of them. Here's the basics:
Tackey: Charismatic, Excitable, Friendly, Hot-Headed, Schmoozer (LW: Super Popular)
Tsubasa: Artistic, Childish, Good Sense of Humor, Natural Cook, Neat (LW: Master of the Arts)
Tsubasa
almost
got Loner due to his shyness, but I figured that we already had one shut in in the house, we don't need two.
Speaking of the house, it got an upgrade. :D
Hey, I never said I was amazing at making houses, okay? XD;
As a gesture of goodwill to their senpai for letting them stay there, and since I moved them in first thing in the morning, Tsubasa cooked them a delicious breakfast while Tackey... err... watched their TV. XD;
The Domotos were appeased by the offering of waffles. That or they were too groggy to care. Meanwhile, Tackey went off to take a tour of the house with Tsubasa.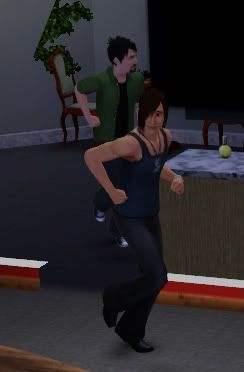 ... and by "tour of the house" I mean "played tag all over the house." Well, it
did
let them see all the rooms!
At least until Tsubasa found Tsuyoshi playing guitar, and went to fanboy him. From here on out, no matter
what
he is doing, if Tsuyoshi is playing the guitar anywhere on the property, Tsubasa will stop what he is doing to go fanboy him. NO, REALLY. It's kind of hilarious and cute. XD;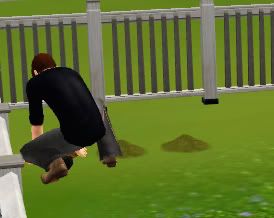 With the children playing upstairs and hoping to escape Tackey's incessant chattering, Koichi went outside to garden. Good to know that some things stay more or less the same. XD;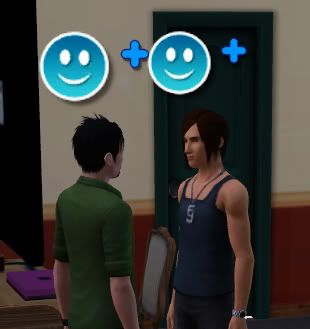 To no one's surprise, Tackey and Tsubasa became BEST FRIENDS 4 LYFE before the day was even half over. Oh you two.
Meanwhile, Koichi was spying on the neighbors.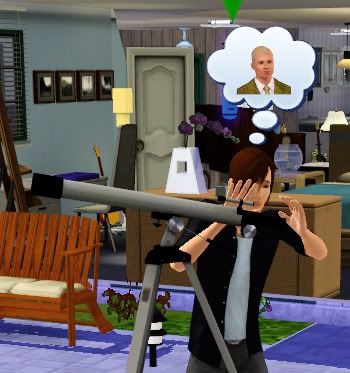 He did not like what he saw. XD; Little did he know, something terrifying was coming his way...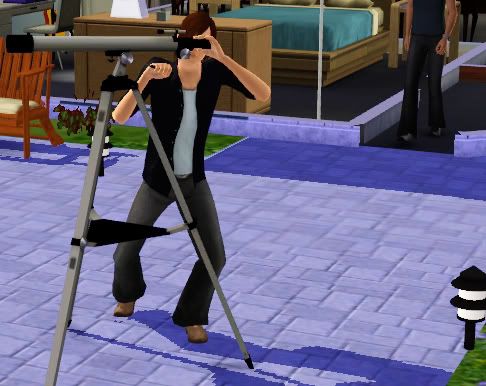 do-do-do~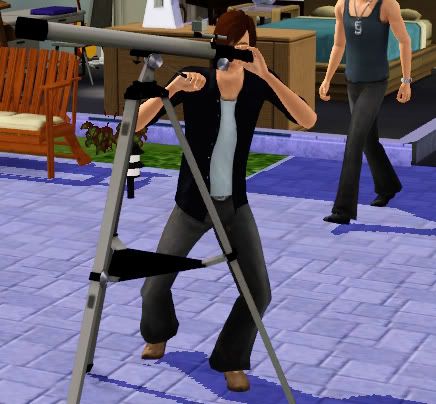 DO-DO-DO~
DO-DO-DO~
TAKIZAWA OFF THE STARBOARD BOW!
Actually, they got along alright. Never underestimate the power of giggling at your aikata behind their backs!
"Tsuyoshi
totally
sings in the shower!"
"OMG SO DOES TSUBASA LOLOL~"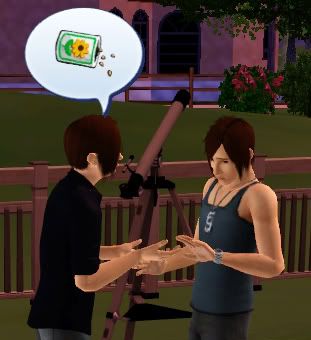 And then Koichi tried talking to Tackey about how
totally awesome
gardening is, causing Tackey to suddenly find his hands
incredibly
interesting.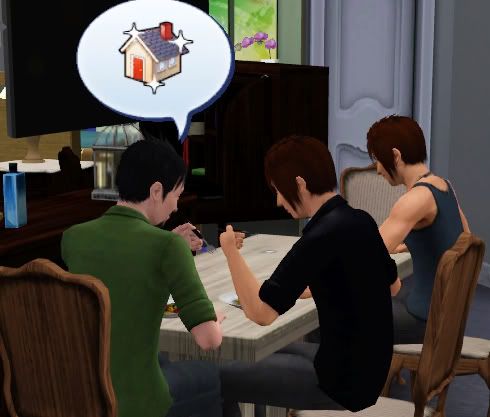 Tsubasa: Thank you for allowing us into your home. It's really lovely. :D
Koichi: *grunt*
Tackey:
pleasedon'tbringupthegarden,pleasedon'tbringupthegarden...
After a long and exciting first day, T&T went off to sleep, though Koichi waited up for Tsuyoshi to come home. Aww. :D
And then he schooled him at racing games.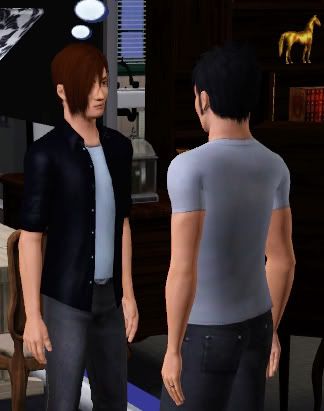 "Tsuyo, tsuyo~"
"What?"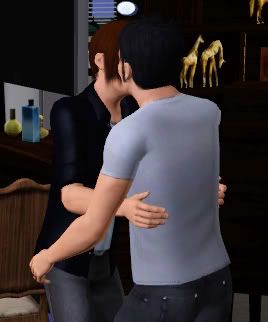 "HUGZ!"
Oh Koichi. I love the fact that you ignore everyone
but
Tsuyoshi. XD
AND NOW--an average morning with Imai Tsubasa.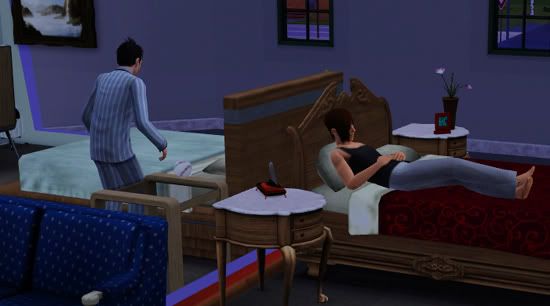 He wakes up early--before everyone else, actually--and makes the bed. (Meanwhile Tackey lazes around and watches TV until breakfast is ready. XD;)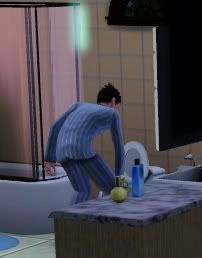 And then he cleans the upstairs bathroom.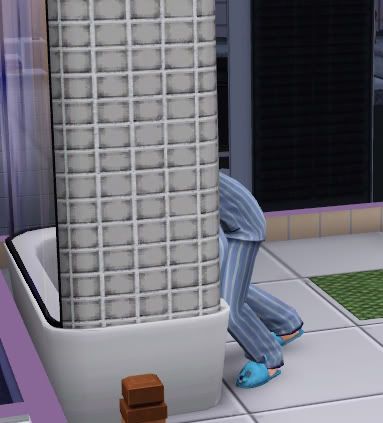 Followed by the downstairs bathroom!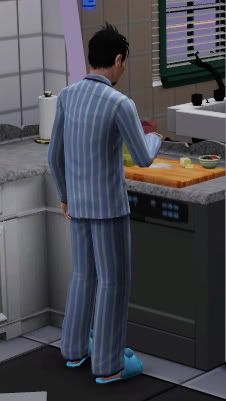 And then makes breakfast! (But don't worry--he cleans himself beforehand. :D)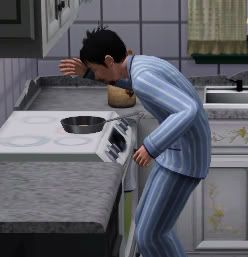 The secret to a delicious pancake is not the temperature or ingredients so much as whispering lovingly to them. Preferably
en español. ¡Que sexy!
Lastly he feeds the house and then, provided Tsuyoshi is playing the guitar (which... if he's awake, he's probably playing the guitar XD;;;), he finds the younger Domoto and fanboys him until he has to go to work.
And that's a typical morning with Tsubasa.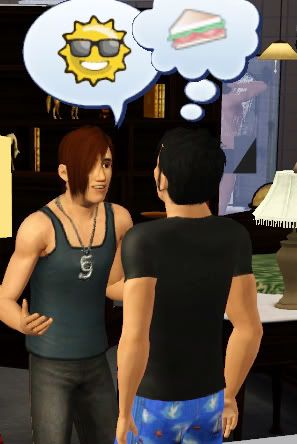 Having harrassed everyone in the house but him, Tackey finally cornered Tsuyoshi and talked his ear off. Because if there is an ass to kiss somewhere, Tackey will sniff it out.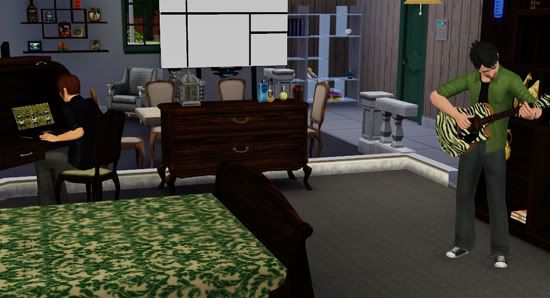 Tsubasa, on the other hand, decided to try and impress Koichi with his own budding guitar skills. Koichi... played video games. XD;
Aside from gardening, the
other
thing Koichi has been real big on lately is cooking. D: He actually entered a cooking competition (didn't win, but he did place!) So with breakfast taken care of, you can guess who has become the default Dinner Bitch of the house.
OM NOM NOM, delicious ratatouille. Also, the rest of the house? Watching
children's programming
together. Cry. XD;
In an effort to get them to at least
try
and resemble responsible human beings, I got them all jobs in their desired fields. So now Koichi works in SCIENCE!, Tsubasa in Journalism, and Tackey in the Medical field (it was that or Politics, but none of the politician jobs were available at the moment and I was tired of his ass lazing around. XD;)
Since Tackey wants to become Dr. Takizawa, though, he needs to up his logic.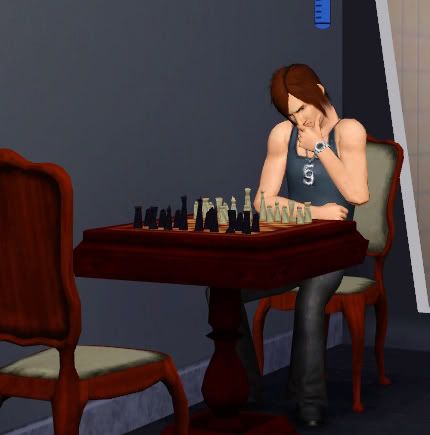 It's slow goings.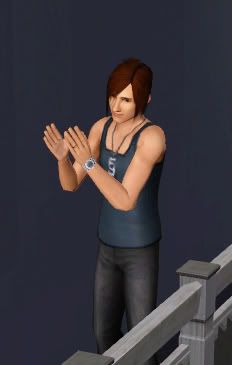 "I know!" Tackey cried, clapping his hands gleefully as he pranced about from foot to foot, "To celebrate our all getting jobs, let's throw a
bitchin' party!
"
And so he did.
He invited NEWS, and everyone but Ryo and Shige came
because they are losers~
. He also invited some
ladies
because if there's one thing Johnny's boys (purportedly) like, it's
ladies.
Koyama brought sandwiches! Aww, Koyamama! :D While Tackey, uh... shook his ass in greetings. XD;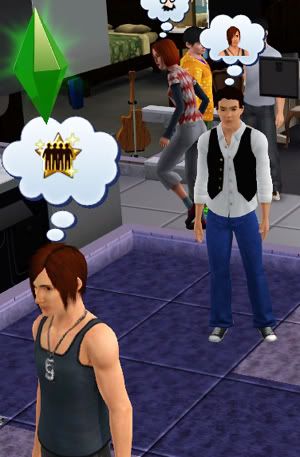 Only in his presence a few minutes and Pi could already hear the siren call that is Tackey. RESIST, PI. FIGHT IT!! (and you can't really see it since the thought bubble is in the way, but Tsuyoshi was giving Massu the best "WTF~" look. XD)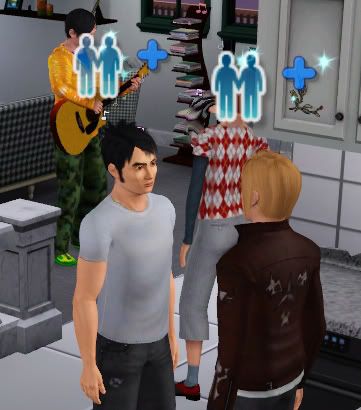 Tsuyo decided to be social! While Massu
jacked a guitar
and played for everyone. LOL MASSU~ Nice manners, kid!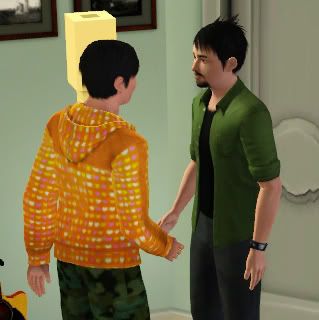 This one is for me because Massu and Tsubasa friendship makes me all squishy. XD;
But where is Koichi in all of this?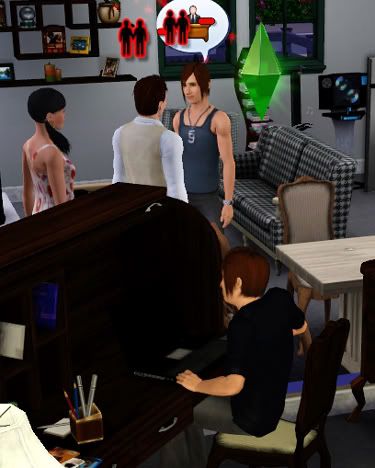 Why, hiding in his room, playing video games, of course! Oh Kochan. XD; In the background Tackey was rubbing it in Pi's face how he has a job and Pi doesn't. Tackey SIM is... kind of an asshole, I have come to realize. XD;
Tsuyoshi is both entranced and horrified to find Koyama and Tego doing some sort of mating dance in his kitchen.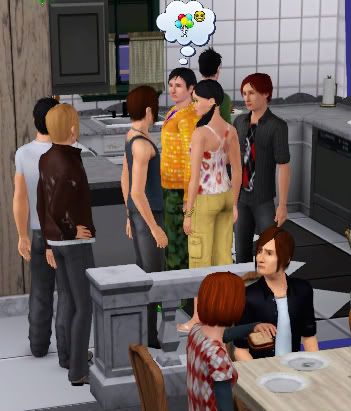 As the party finally winds down and guests start to leave (Pi was the first to go, followed immediately by Massu
lol, whipped
) Koichi finally emerged from his lair only to realize halfway into his sandwich, OMG WTF THERE ARE PEOPLE HERE!!
And do you want to guess who was the last to leave?
No, seriously, guess.
He wouldn't stop talking.
He just sat there and fanboyed Tsuyoshi all night.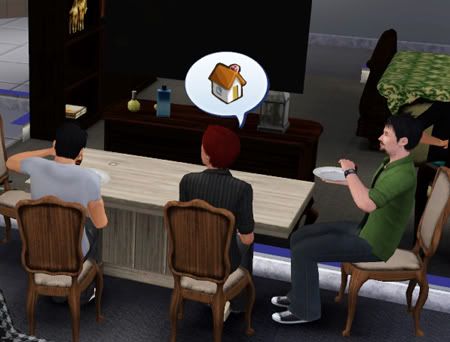 "--AND THEN I WAS LIKE NOOOO WAY SHIGE I AM
SO
SMARTER THAN YOU AND HE WAS SAYING SOMETHING BUT THEN I KISSED HIM AND HE SHUT UP SO I WON AND OMG YOUR HOUSE IS REALLY NICE NOT AS NICE AS MINE BUT STILL NICE I SHOULD COME HANG OUT MORE OFTEN AREN'T THESE SANDWICHES GREAT I HELPED KEICHAN MAKE THEM HE WANTED TUNA BUT I SAID PEANUT BUTTER SO WE COMPROMISED AND--"
Once Tegoshi left--
finally
--and Tsubasa went on an insange cleaning binge of the house, the results of the party came back.

Tackey was unbearably pleased with himself for the rest of the night. XD;
The next morning...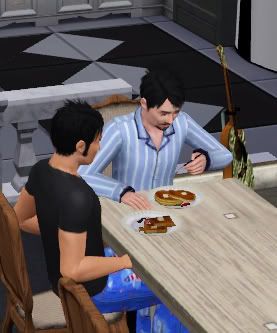 "So has Koichi-kun come out of his bedroom yet?"
"He mumbled something about Tegoshi and dragons and locked the door tight. What about Tackey?"
"He was up until four giggling. I could hear him through the walls all night."
"If it makes you feel better, I'll let you clean my dish for me."
"Tsuyoshi, you are the best~~ ;_;"
While everyone was at work, I noticed that the little "make new friend!" wish that Tackey had been sporting had suddenly disappeared, so I went to check and noticed he had made friends with Koyama! :D
... who is also
his boss.Koyama
is
Tackey's
boss.
PFFFFFFT.
So since he now wanted to be BFF with Koyama, I had him call him over. :D
... this was also the first time I ever saw Tackey's Hot-Headed trait work up. I don't know
what
pissed him off, but for some reason, Tackey greeted Koyama with a creepy angry pose and a guttural yell.
Koyama just thought he was being funny. XD;
"Sooooooooooooooo... you, uh... seeing anyone, Koyama-kun?"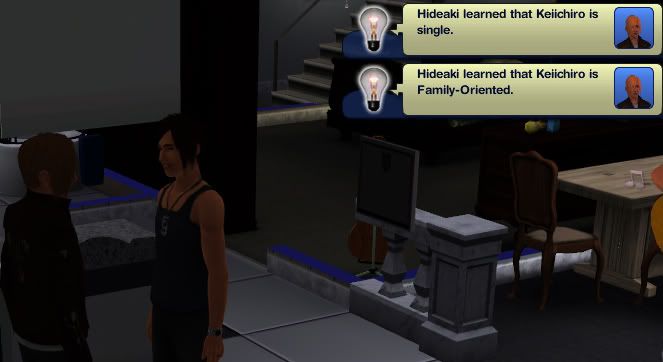 LOOK AT THAT EVIL GRIN. LOOK AT IT. TACKEY, DON'T LEER AT KOYAMAMA LIKE THAT. XD;
While Tackey was busy trying to get into Koyama's (very tight) pants,
this
was going on at the other end of the house: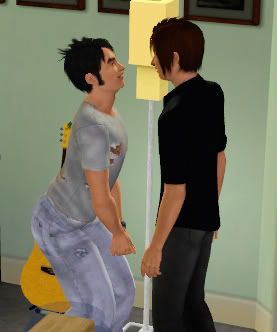 At first I thought Tsuyo just had to pee really badly, but no, he was staring into Koichi's eyes like a goober. Oh, I do so love Hopeless Romantic SIMS. XD
Tsuyoshi is the only SIM Koichi even
remotely
likes, so when Kochan did not turn his advances down, Tsuyoshi got bold.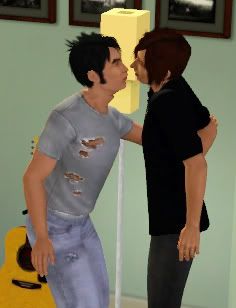 Really bold.
I mean,
really
bold. Though I'm not sure if I'm going to assimilate everyone into one bedroom for them just yet, mainly because, well... Koichi can't stand art, and Tsuyo's room is like a gallery. I'm surprised Koichi managed to sleep in there without blowing a gasket. XD;
The next day, Koichi was dog tired, since he was up until three woohoo-ing with Tsuyo and then had to get up at seven to go do acts of SCIENCE! Luckily, Kochan is also a Workaholic, so as long as he's working, he's in a good mood. He even managed to get a promotion! :D
And promptly came home and died for a few hours. Aww, Kochan. XD;
Tackey had already invited Koyama over for another night of wooing when I noticed the following wish pop for Tsubasa.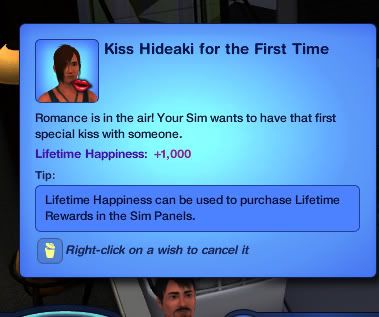 Uh-oh. D: Normally I'd think about ignoring this, since Tackey obviously wants some sweet sweet Koyamama lovins. Not to mention Koyama was already on his way over when this popped up.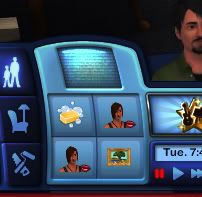 But Tsubasa REALLY wanted to kiss Tackey. And, I mean, that's a lot of lifetime points, yo! ;o;
So I let Tsubasa warm Tackey to the idea...
... and then go for it. Awwww~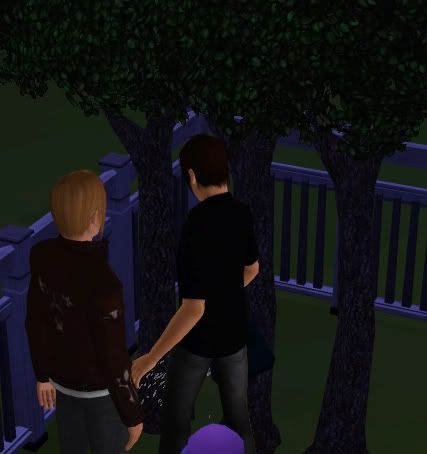 Meanwhile, Koyama inquired how little Koichi Appleseed was doing. Your mistake, Koyamama. Prepare to hear abour fertilizer and soil and water conditions for the next hour. :|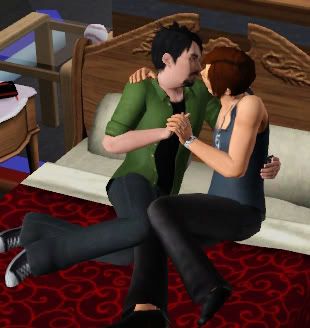 Tsubasa wasted no time in staking his claim! GO TSUBASA! D:
... so, I'm beginning to think that the amount of woohoo-ing your SIMS do is directly proportional to how well you do at your job. Because the next afternoon, they
all
came back with promotions. D: Well, minus Tsuyo, because he had the day off, but he WAS in an awesome mood all day. XD;
KOICHI LOOKS LIKE SUCH A NERD, OH, I LOVE IT. <333333333 Also Tackey has finally donned the pink scrubs! XD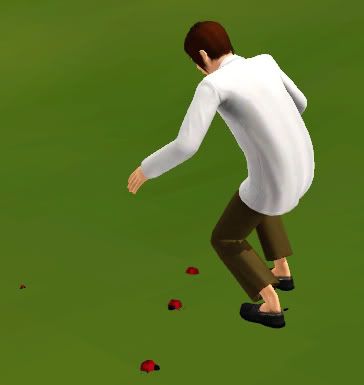 Koichi went out to celebrate his promotion by CATCHING BUGS! And picking up moon rocks. Oh... oh, Kochan. XD; <3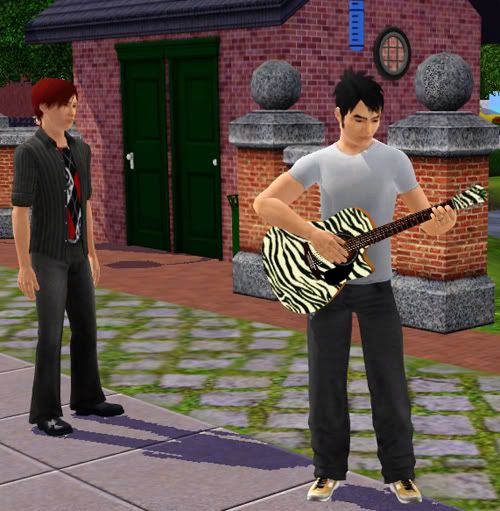 Tsuyoshi, on the other hand, was playing in the park. :D Tegoshi's fanboy-dar allowed him to hone in on senpai, and he sat there clapping and cheering the whole time. XD;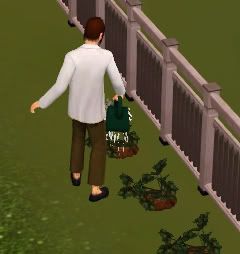 Koichi continued the CRAZY GO NUTS celebration and... WATERED HIS LETTUCE,
OH YEAAAAAHHHH
.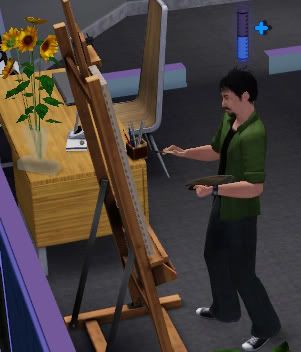 Tsubasa can only express his feelings through paint! Oh, so moved is he~
After a rousing afternoon of playing in the park, Tsuyoshi ran home to show Kochan how awesome he had become.
... by playing him a song in the bathroom. He actually went
in
while Koichi was showering, but waited for him to get dressed before serenading him. ... why do I get the feeling that this is a very Tsuyoshi thing to do? XD;
Upstairs, though...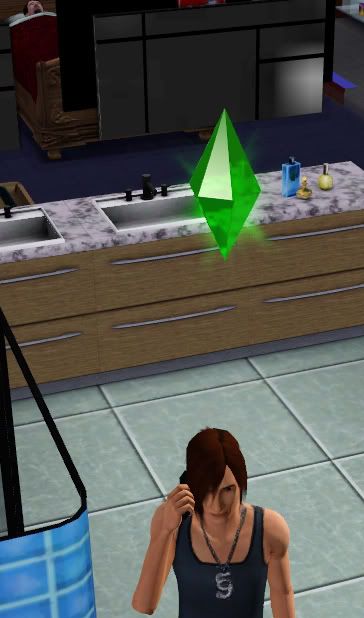 Tackey, Tsubasa's asleep waiting for you, what're you--Wait, why are you in the bathroom and who are you on the phone with? D:
OMG, ARE YOU PLANNING A DATE WITH KOYAMA BEHIND TSUBASA'S BACK!? (No joke, after this, he had
two
wishes to kiss Koyama come up. D:)
And then he happily climbed into bed with Tsuba to cuddle! OMG TACKEY, YOU'RE AWFUL. D: D: D:
Well, at least we know
some
people in this house aren't sneaky drama creators. :|
Awww, Tsuyo can't stop cuddling Koichi. It's really darling. XD;
Koichi thinks so too, apparently.
Just as I was getting ready to save and quit for the day, I checked everyone's wishes only to see this pop up: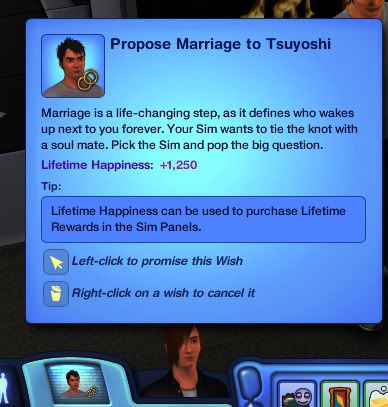 OH
EMM
JII
KOCHAN!!
:O :O :O :O :O
SO WILL KOICHI POP THE QUESTION? Will Tsuyoshi say yes!? Can Tackey successfully date TWO people or will he man up and make a decision? Am I every going to stop being distracted long enough to make Eito SIMS? HAS RYO SEEN THE SUN ONCE SINCE I LEFT HIM!?
All this and more... coming soon! 8D